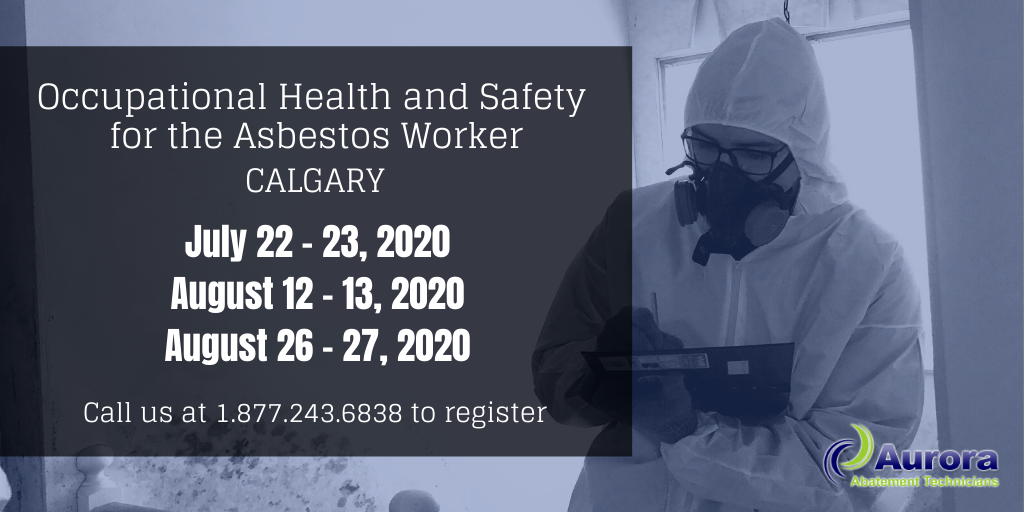 We are happy to announce that our Occupational Health and Safety Training for the Asbestos Worker course has resumed. The dates for our upcoming Calgary courses are as follows:
July 22 – 23, 2020
August 12 – 13, 2020
August 26 – 27, 2020
Please visit our Events page for all our 2020 course dates. To manage occupancy at our Calgary office, courses will be held at an external facility. The address will be provided upon registration for the course. To register, please call us at 1.877.243.6838.
We are also planning courses in Edmonton. Stay tuned for upcoming training dates.
With Alberta in Phase 2 of the Relaunch Strategy, we are implementing strict COVID-19 protocols:
Attendees must conduct a health self-assessment and sign off on an acknowledgement form prior to entering the classroom on Day 1.

Anyone who is sick with flu-like symptoms such as cough, fever, runny nose, sore throat, shortness of breath, fatigue, muscle aches, chills, loss of taste or smell, headache, and/or chest pain MUST NOT attend the course.

If attendees are unable to attend the course due to symptoms, or if symptoms arise prior to the start of Day 2 and they cannot continue with the course, arrangements will be made to accommodate the student at a later date.

All attendees will be required to sanitize their cell phones and personal items prior to entering the classroom. Wipes will be provided by the instructors.
EHSP highly encourages the use of facial coverings while attending the course. We will have facial coverings available should attendees not have their own.
A complete cleaning of the classroom will be conducted the day prior to a training session and the evening before Day 2. Frequently touched surfaces and items will be cleaned and disinfected regularly.
We will ensure that attendees have enough space to adhere to the requirements for physical distancing (at least 2 meters apart) and adhere to public health guidance regarding the maximum number of people in a gathering.
With regards to the practical demonstration part of the course:

Practice exercises in separate modules will be set up so attendees can rotate through them one by one.

Videos to illustrate activities such as constructing a containment as well as constructing and using a decontamination facility will be used in lieu of our usual laboratory demonstration.

For respirator fit testing, qualitative fit testing methods will be used. We encourage attendees to bring their own respirator if they own one; this must be sanitized prior to entering the classroom. For those who don't have a respirator, we will provide attendees with their own practice units to limit contact.

All course materials provided at the start of the session must be retained by attendees after course completion.
For questions regarding the asbestos courses or our COVID-19 procedures, please feel free to contact us at [email protected] or at 1.877.243.6838.